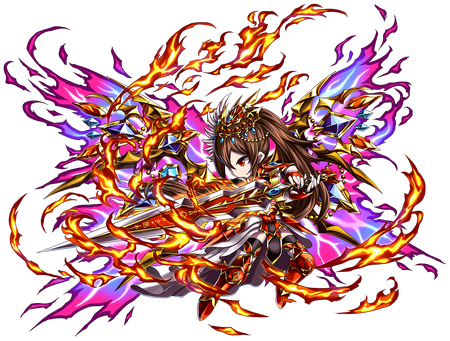 Overview
Noel has started a new challenge! Head to the Summoner's Research Lab and take on Battle No. 001 in Strategy Zone!
This Trial can only be accessed once Rainbow Goddess has been cleared in the Summoners' Research Lab.
Rewards
3,000,000 Zel
100,000 XP
1 Gem
Preparations
You may use 1 squad and item set for this battle. 5 units must be set as your main team and 5 must be set as back-up units. All Units must be unique and you are allowed up to double your total cost. You can select up to 2 friends from your entire friends list for each squad that you can bring in. There is no cooldown when using a friend to fight Seria and her allies. Your items do not get replenished when a team dies, so bring as many healing items, elemental seals, BB gauge support items, Revive items, and status cure items.
Recommended Leaders:
Battle
Phase 1

Rhodonite Blaze - 19 combo Fire attack on all foes
Libertine Grace - 23 combo powerful Fire attack on all foes, 15% DoT for 1 turn, 25% boost to own Atk and 50% boost to own Def of Fire types for 3 turns
Heart's Desire - 19 combo powerful Fire attack on single foe that deals 35,000 damage & 90% Atk reduction for 5 turns
At < 70% HP or whenever UBB is used

Seria is gathering energy... - 80% damage reduction for 1 turn

Next turn

Divinity: Seraphim - 27 combo enormous (500%) Fire attack on all foes, 12% DoT for 3 turns & 80% Atk reduction for 2 turns

At < 50% HP
At < 0% HP

Vulnerable to Weak, Injury
Divine Ember Strike - 6 combo Fire attack on all foes & 50% boost to Spark damage for 3 turns
Heavenly Dawn's Brandish - 21 combo powerful Fire attack on all foes, 40% boost to Spark damage for 3 turns, 10% chance to inflict 25% Spark vulnerability for 3 turns, 10% boost to own Spark damage for 3 turns, 50% boost to own Atk and 10% boost to own critical hit rate for 3 turns & reduces resistance to Injury by 50% for 3 turns
At < 40% HP

Overdrive - 50% boost to Atk, Def, Rec for 3 turns

Next turn

God of War's Flare - 23 combo massive Fire attack on all foes & 20% boost to own and to allies' Spark damage for 3 turns
Phase 2

Rhodonite Blaze - 19 combo Fire attack on all foes
Heart's Desire - 19 combo powerful Fire attack on single foe that deals 35,000 damage & 90% Atk reduction for 5 turns
Libertine Grace - 23 combo powerful Fire attack on all foes, 15% DoT for 1 turn, 25% boost to own Atk and 50% boost to own Def of Fire types for 3 turns
Blaze Blade: Ecarlate Flamm - 4 combo Fire attack on all foes & 100% Atk reduction for 3 turns
Turn 1
At < 50% HP
At < 45% HP

Seria is gathering energy... - 80% damage reduction for 1 turn

Next turn

Resonant Blaze - 8 combo enormous (600%) Fire attack on single foe, removes all buffs, 100% Atk reduction for 3 turns & reflects 100-150% damage taken for 1 turn
Will repeat if UBB is used

At < 1% HP

Vulnerable to Paralysis
Blade Flash: Heavenfall - 14 combo Thunder attack on all foes, adds 1 turn 40% chance to reduce enemy Atk, Def by 50% effect to attack for 3 turns, adds 1 turn 50% chance to reduce enemy Rec by 90% to attack for 3 turns & negates all status ailments and Atk, Def Down effects for 1 turn
Astinic Dive - 20 combo Thunder attack on all foes, adds 1 turn 40% chance to reduce enemy Atk, Def by 50% effect to attack for 3 turns, adds 1 turn 50% chance to reduce enemy Rec by 90% to attack for 3 turns, 50% chance to reduce enemy Atk, Def by 50% for 1 turn & 10% chance to inflict 25% Spark vulnerability for 1 turn
At < 80% HP

Overdrive - 50% boost to Atk, Def, Rec for 3 turns

Next turn

Umber Elimination - 25 combo massive Thunder attack on all foes, 90% Atk, Def reduction for 3 turns, 15% chance to inflict 100% Spark vulnerability for 3 turns & reduces BB gauge by 100%

At < 40% HP

Overdrive - 50% boost to Atk, Def, Rec for 3 turns

Next turn

Umber Elimination - 25 combo massive Thunder attack on all foes, 90% Atk, Def reduction for 3 turns, 15% chance to inflict 100% Spark vulnerability for 3 turns & reduces BB gauge by 100%

Radia Caris - 19 combo powerful Thunder attack on single foe, 10% chance to inflict 25% Spark vulnerability for 2 turns & gradually recovers 15,000 - 20,000 HP for 3 turns
Fairtorak Familia - 18 combo Thunder attack on all foes (damage relative to remaining HP), 8 combo Thunder attack on single foe, 15% chance to inflict 25% Spark vulnerability for 2 turns, 25% boost to own Atk for 2 turns & adds Def ignoring effect to attack for 1 turn
At < 40% HP

Overdrive - 50% boost to Atk, Def, Rec for 3 turns

Next turn

Vertex Eve - 25 combo massive Thunder attack on all foes, 50% boost to Atk and critical damage for 3 turns & gradually recovers 98,999 - 99,999 HP for 3 turns
Phase 3

Rhodonite Blaze - 19 combo Fire attack on all foes
Libertine Grace - 23 combo powerful Fire attack on all foes, 15% DoT for 1 turn, 25% boost to own Atk and 50% boost to own Def of Fire types for 3 turns
Blaze Blade: Ecarlate Flamm - 4 combo Fire attack on all foes & 100% Atk reduction for 3 turns
At < 70% HP
At < 50% HP

Crimson Ring - Adds +2 to normal hit amount for 999 turns & gradually recovers 10,000 - 30,000 HP for 999 turns & reduces resistance to Injury by 20% for 999 turns

At < 10% HP and every 4 turns after

Overdrive - 50% boost to Atk, Def, Rec for 3 turns & massively reduces damage taken for 1 turn

Next turn

Divinity: Seraphim - 27 combo massive Fire attack on all foes, additional massive attack at turn's end for 3 turns, enormously reduces Atk for 2 turns, boosts own HC drop rate & enormously boosts Atk, Def, Rec for 3 turns
Used after every revival afterwards

Crown Support - 13 combo Fire attack on all foes, 55% chance to inflict random status ailment, 20% boost to damage when attacking status afflicted foes for 3 turns & reduces BB gauge by 70-90%
Phantom Darkness - 17 combo Fire attack on all foes, 15% chance to inflict and reflect Injury, Sick, Weak effects for 3 turns, 10% chance to inflict and reflect Curse, Paralysis, Poison effects for 3 & 20% boost to damage when attacking status afflicted foes for 3 turns
Crown Solitary - 9 combo Fire attack on single foe & invalidates LS for 999 turns
At < 50% HP

Overdrive - 50% boost to Atk, Def, Rec for 3 turns & massively reduces damage taken for 1 turn

Next turn

Alien Defiance - 21 combo massive Fire attack on all foes, adds all status ailments to attack for 3 turns & reduces BB gauge by 100%
Renaissance Soar - 17 combo powerful Fire attack on all foes, 10% DoT for 2 turns & heals 25,000 - 30,000 HP
Every 2 turns

Vermilion Feather - 13 combo Fire attack on all foes, gradually recovers 30,000 - 35,000 HP for 3 turns, 25% chance to heal 20-25% of damage taken for 3 turns & adds Angel Idol effect

At < 50% HP

Overdrive - 50% boost to Atk, Def, Rec for 3 turns & massively reduces damage taken for 1 turn

Next turn

Ra-Hoor-Khuit - Recovers 500,000 HP, adds 100,000 HP Fire barrier & reflects 10-15% of damage taken for 3 turns