Effect Duration Boost
| | |
| --- | --- |
| Buff ID | N/A |
| Passive ID | 11009 |
Effect Duration Boost is an effect that can either extend the turn duration of certain buffs or reduce the turn duration of specific debuffs.
For example, Nia, Maverick of Elysia's Extra Skill effect reduces the duration of the Turn Skip debuff by 3 turns. This makes her immune to any Turn Skip effects that last for less than 3 turns.
Buff Application
If a unit's buff were to have its effect duration reduced to 0 turns, the effect will not apply at all. This also means a buff with an effect duration of 0 turns cannot overwrite pre-existing buffs.
For example, if Damage Mitigation effects have their effect duration reduced by 2 turns, Reborn Íkaros Azius' 3-turn mitigation effect on SBB will only last for 1 turn. If Divine Savior Mikael's 2-turn mitigation effect on SBB were to activate, Mikael's mitigation effect will not overwrite Azius' mitigation effect.
A Feast of Tears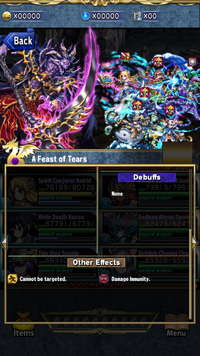 Certain quests have invisible enemies usually named A Feast of Tears. These are not meant to be targeted, as they cannot be targeted without scrolling through each enemy that appears in battle while checking enemy buffs. Additionally, they have Damage Immunity and Stealth effects active throughout the entire fight. When present in battle, they reduce the buff turn duration of the following effects:
A Feast of Tears generally reduces the duration of the above effects by 2 turns while present. Exceptions to this include the following:
Effect
Content
3-turn reduction
4-turn reduction

Battle 5 of Frontier Spire's Unknown Sector

Occurs only if A Feast of Tears is present while Phantom Ensa-Taya is alive
Multiple copies of A Feast of Tears can be summoned, causing effect durations to be reduced by an additional 2 turns for each A Feast of Tears present
Trivia
Active and Passive Effects in the Brave Frontier series
Brave Frontier

Attacks
Regular Damage • Random Target Damage • Lifesteal Damage • Proportional Damage • Fixed Damage • Multi-element Damage • Non-Lethal Proportional Damage • HP-scaled Damage • Piercing Proportional Damage • BB-scaled Damage • Consecutive Damage • Element Squad-scaled Damage • Element Target Damage • Piercing Damage • Negative HP-scaled Damage

Recovery
Healing: Burst Healing • Gradual Healing • Heal when attacked • Heal on Spark • HP Absorption • HC Efficacy • Heal on Enemy Defeat • Heal on Battle Won

---

Revive: Revive • Chance Revive • Guaranteed KO Resistance • Chance KO Resistance

---

Status / Debuff Prevention: Status Cure • Status Negation • Parameter Reduction Negation • Effect Negation


BB Gauge
Burst BB Gauge Fill • Gradual BB Gauge Boost • BB Gauge Refill • BC Efficacy • BC Fill when attacked • BC Fill on Spark • BC Fill on Guard • BC Fill on Enemy Defeat • BC Fill on Battle End • BC Fill when attacking • BC Cost Reduction • BB Gauge Consumption Reduction • BC Fill when attacked while guarding • BC Fill after taking damage • BC Fill after dealing damage • BC Fill after receiving HC

Parameters
Parameter Boost • Elemental Parameter Boost • Type Parameter Boost • Self Parameter Boost • Parameter Conversion • Self Parameter Conversion • Max HP Boost • Self Max HP Boost • Attack Boost on Status Afflicted Foes • HP-conditional Parameter Boost • Parameter Boost for First X Turns • BB-conditional Parameter Boost • Element Squad-based Parameter Boost • Gender Parameter Boost • Flat Parameter Boost • Parameter Boost based on HP remaining • Turn-based Parameter Boost • Break Atk Parameter Limit • Break HP Parameter Limit

Ailments &
Debuffs
Status Ailments: Poison • Weakness • Sickness • Injury • Curse • Paralysis
Special Effects: Status Infliction Added to Attack • Status Counter • Status Infliction on Critical

---

Debuffs: Parameter Reduction • Parameter Reduction Added to Attack • Parameter Reduction Counter • Max HP Reduction • Critical & Elemental Damage Vulnerability • BB Gauge Reduction • Drop Rate Reduction • BC Efficacy Reduction • Active Healing Reduction • Passive Healing Reduction • HC Efficacy Reduction • OD Gauge Reduction • DoT • Piercing DoT • BB Atk Reduction • Leader Skill Lock • Sphere Lock • Extra Skill Lock • Gradual BC Drain • Turn Skip • Time Stop • KO Resistance Negation • Doom • Amnesia • Ennui • Inflict Effect when attacked


Damage
Boosts
Spark Damage: Spark Boost • Self Spark Boost • Spark Boost based on HP • Spark Vulnerability • Spark Critical • Elemental Spark Boost • Spark Boost for First X Turns

---

---

---

---


Defensive Effects
Damage Mitigation: Damage Mitigation • Elemental Mitigation • Guard Mitigation • DoT Mitigation • Specific Damage Mitigation • Chance Mitigation • Damage Reduction to 1 • Elemental Mitigation for First X Turns • Normal Attack Mitigation

---

Damage Resistance • Ignore Defense Negation • Barrier • Damage Counter • Taunt • Stealth • Shield • Evasion • Final Charge


Raid
Raid Healing • Raid Parameter Boost • Raid Boss Reveal • Raid Teleport • Raid Flee • Raid Damage Mitigation • Raid Item Drop Rate Boost

Other

---

---

---

---

---

---

---
Community content is available under
CC-BY-SA
unless otherwise noted.